Fudge Band are a three piece  who combine with professionally
sequenced drums, bass and keyboards to produce a full band.
With Jordan on Vocals and Scotty and Cam on Guitar and backing Vocals, the band plays a great mixture of covers.
They played to a packed house at Beaches of Mornington on Friday April 4th, and really got the crowd rocking.
A full Flickr Gallery of Photos can be viewed at the link below:
Flickr Gallery of Photos of Fudge at Beaches
Further information about the Fudge band can be found at their Website:
We went along and saw Fudge two weeks later for another shoot; this time using two different lenses, and a Yongnuo Flash.
A full Flickr Gallery of Photos can be viewed at the link below:
Flickr Gallery of Photos of Fudge at Beaches on Anzac Day
EQUIPMENT – First Shoot:
Sony Alpha A-77
Tamron 17-50mm F2.8
A-77 on board flash.
Beaches has dim colored lighting and the camera struggled even at 3200 ISO and F2.8 Aperture.
This was not helped by having the camera incorrectly set up with  "DRO" – Dynamic Range Optimisation, which balances exposure levels throughout the entire image, and made silouetted crowds in the foreground a horrible brown color instead of black. This was my first gig shoot with the A-77 and so there is still much learning to be done!
EQUIPMENT – Anzac Day Shoot:
Sony Alpha A-77
Tamron 17-50mm F2.8
Sony 35mm F1.8 Portrait Lens
Yongnuo YN460 Flash
In this shoot I followed the general approach I am currently using for shoots at Beaches. Step 1 is to get some low light no flash band pictures using the 35mm F1.8 fixed lens. About 1 in 6 of these shots work out, but I use the good ones in the middle of the final photo album to break things up a bit. Step 2 is to attach the flash and diffuser and do some more band shots, as well as "Party People" shots of venue patrons for the Beaches Facebook page.
Most band shots were taken at ISO 1000, with shutter fixed at 1/125th. Party People shots were taken at ISO 1250, with aperture priority used, so that aperture of 4.5 or 5.0 could be used for group shots to try and get everyone in focus.
Another thing I tried out was to take some shots of the Dance Floor, with no flash, and at ISO 5000. One shot was usable, but the A-77 is very noisy at these high ISO's. I am going to continue getting a few really high ISO shots, as they are good to use as the final photos in an album.
Overall I was quite happy with this second shoot, and the results were definitely better than the first shoot two weeks prior.
In addition, some of the patrons were overwhelmed with happiness at their photos being taken; and insisted on having this shot, (which they posed, not me), with the very handsome photographer!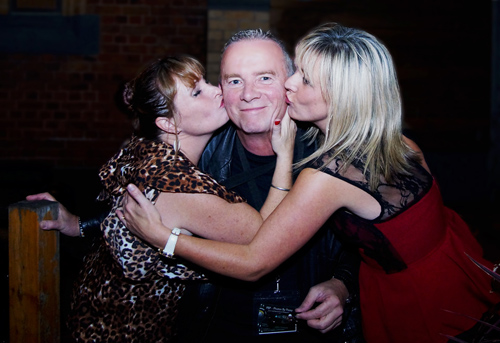 Subscribe
If you enjoy visiting Photos By Passy, why not get a free subscription to the website.
You can then receive notifications of new items and updates directly to your email address.
Go to the subscribe area on the left hand sidebar, (or down the bottom of the page if using a mobile phone), fill in your email address and then click the "Subscribe" button.
Enjoy,
Passy