Dirt River Radio are led by Heath Brady and Alex Raunjak, with Kellie Fernando providing some nice solid backing Vocals.
DRR plays original songs which encompass Rock, Ballads, and Rockabilly styles. Many of the songs have great dry Aussie Humor in them, and the band looks great with their Giant Gretch Guitars.
These photos are from a Gig in March 2014 at The Elsternwick Hotel, which was also attended by well known rock photographer Eric "Chowie" Chow.  Chowie is a very talented photographer who has been shooting bands for over 10 years and really knows how to capture the moment.
The next biggest highlight (after meeting Chowie in person for the first time), was some old drunk guy called "Your Dad" who followed me around the venue mimicking all my photography moves.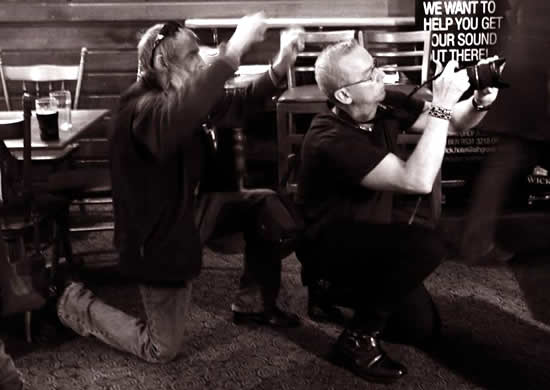 Thanks Chowie for capturing Dad and I working together in such beautiful synchronicity!
Here are a few of the Dirt River Radio Pictures:
A full Flickr Gallery of Photos can be viewed at this Link:
Flickr Photo Gallery of Dirt River Radio at The Wick
Further information about Dirt River Radio can be found at their Facebook Page:
Dirt River Radio Facebook Page
EQUIPMENT:
Sony Alpha A-55
Tamron 24-70mm F2.8
Most shots were taken with the camera set to "Sports Mode" in SCN.
Black and White Photos were created in Adobe Photoshop CS 5.5
Due to the poor and dim lighting many shots were Red in Color, but these converted reasonably well to B&W's.