Morgan Evans and his country rock band did a great show at Revolver in Melbourne recently.
One of the support acts was Jessica Jade who is a very talented Melbourne singer, and known to my assistant photographer Michael.
It was great to see her band perform as the support act, as we have been meaning to check out her music for a while now.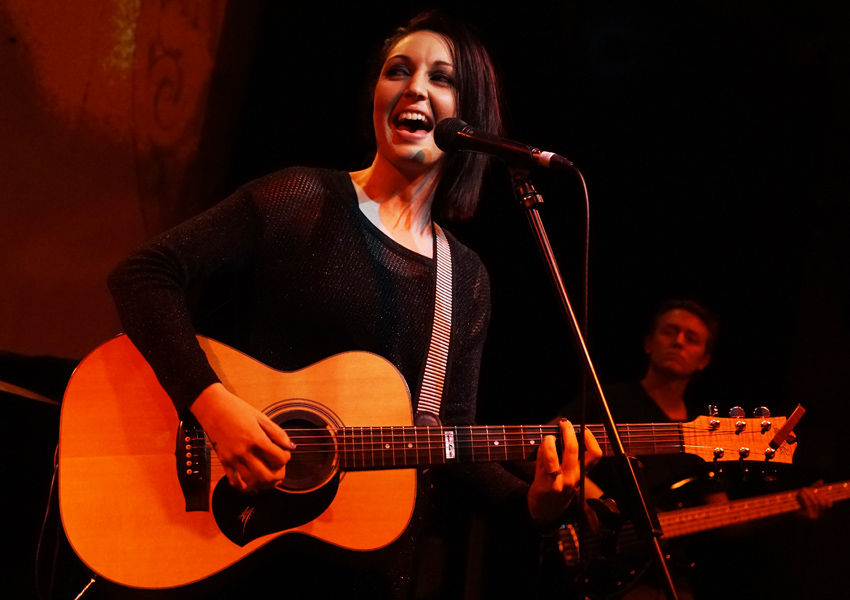 A full Flickr Gallery of Photos of Jessica Jade and her band can be viewed here:
Flickr Photo Gallery of Jessica Jade September 12th 2014
Last time Morgan played at Revolver, we experienced white balance problems on one of the cameras, resulting in a blueish tinge to a lot of the photos, and we were not really happy with the results overall.
However, this time we made sure we got everything right, and we were pleased with the resulting pictures of the show.
Several photos that were taken while red and orange light were on the band, were successfully converted to Black and White during post processing.
For the colour pictures, we did some Desaturating in Photoshop, to reduce down some overly bright colours, especially those from the red spot lights.
We also found that the A77 photos are often darker than they look on the camera preview once they are downloaded to PC. These pictures were easily brightened up in Photoshop during post-processing, using the Brightness/Contrast function.
A full Flickr Gallery of Photos can be viewed here:
Flickr Photo Gallery of Morgan Evans September 12th 2014
As well as shooting the band, we also did the post show "Meet and Greet" photos for the fans.
A full Flickr Gallery of "Meet and Greet" Photos can be viewed here:
Flickr Photo Gallery of Morgan Evans Meet and Greet
Further information about Morgan Evans can be found at their Facebook Page:
There is also an official website for Morgan:
The Band's Official Fan Page is also on Facebook here:
Morgan Evans Fan Club Facebook Page
EQUIPMENT:
Sony Alpha A-77 MkII Camera
Sony 18-55mm F2.8
Sony Alpha A-55 Camera
Tamron 24-70mm F2.8
Sony HVL-F43M Flash
Gary Fong Gamma Blade Diffuser
Panasonic Lumix LX7 Compact Camera
On this shoot we used the Lumix LX7 for the band playing to the crowd shots, and it is a great compact camera for low light with its 1.4 Aperture.
The Sony A77II was used for band shots, and all of the Meet and Greet photos.
Shooting with the A77II was done in full manual mode at f2.8 and 1/60 to 1/125 speed, and ISO varied from ISO 400 for bright spotlight shots, to ISO 1600 for other shots.
The Sony A55 works brilliantly teamed with the Tamron lens and set to "SCN" Sports Mode. I give this camera to my assistant Micheal so that he can effectively just "Point and Shoot" close up photos of band players, especially the drummer. He was also able to get some good non-flash photos of people in the crowd using the A-55.
In post processing we tried something new and sized the longest side of photos at 850 pixels, rather than 960 pixels, and saved them as WEB photos at 90% (11/12) quality, rather than the usual 85% we have been using for previous shoots.
We are not really sure whether this made a huge difference, but the photos seemed to be okay when loaded up to Facebook and Flickr online.
Subscribe
If you enjoy visiting Photos By Passy, why not get a free subscription to the website.
You can then receive notifications of new items and updates directly to your email address.
Go to the subscribe area on the left hand sidebar, (or down the bottom of the page if using a mobile phone), fill in your email address and then click the "Subscribe" button.
Enjoy,
Passy