All PBP Photos are loaded onto Flickr, and copies can be obtained from Flickr using a web browser on either a PC, Laptop, or Mobile Phone.
First we have some videos on how to Save (or Download) photos to a Computer or Laptop.
Following this there are some step by step written instructions on how to save copies of photos for PC, Samsung Galaxy, and iPad.
How to Save Photos – Step by Step Videos
Video about Saving Flickr Photos using a Windows PC
Video about How to Save a Photo using a Mac
Written Instructions
The first thing to do is get into the Flickr Photo Gallery (or "Album") which contains the picture we want to save a copy of.
(Note that we can save pictures which are on Facebook; however the resulting quality is not as good as a Flickr Save or Download).
Next step is to mouse over and click or tap the photo we are interested in.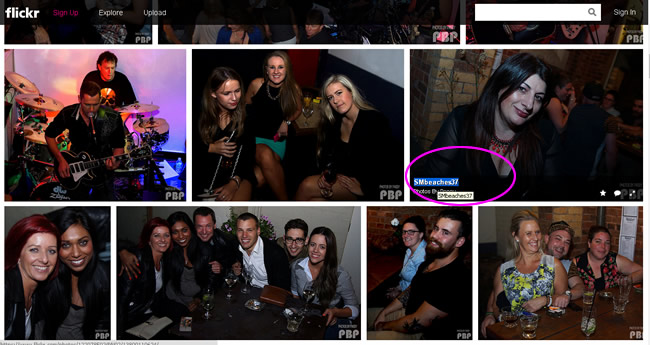 This will take us to a large size preview of that particular photo: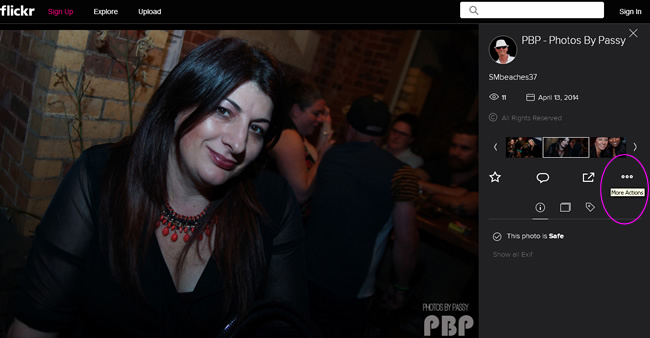 Note that the screenshots shown here are for doing this process on a PC or Laptop, using Google Chrome as the browser.
Mobile devices behave slightly differently.
For example on a Samsung Galaxy the process steps are :
1) Tap on the desired photo
2) Click on "View More Info about this photo"
3) Click on "View all Sizes"
4) Tap on what size you would like: Medium, Large, or Original
5) Hold down finger on the picture, until a pop up menu appears
6) Tap "Save image" on this pop up menu.
– Note there are iPad saving/download instructions near the end of this page.
Let's return to the process steps for a PC or Laptop:
Here is where we have clicked on the image in Flickr, and it is now opened up on the Display Screen: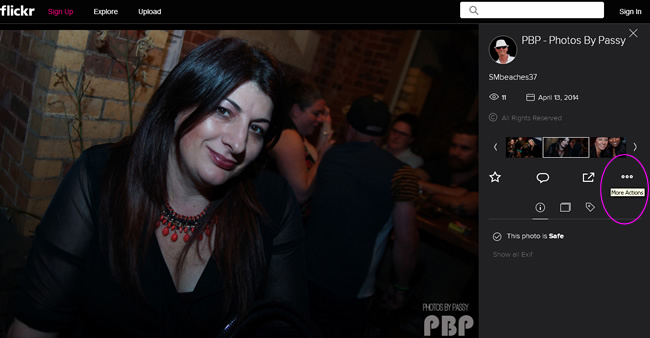 On the very right hand side of this screen, half way down, there is a three dots "…" icon,(called "More Actions"), as circled in the screen capture shown above.
The next step is to click or tap on this three dots icon.
This should open up a dialogue box, where the "Download Option" can be clicked or tapped, as shown below: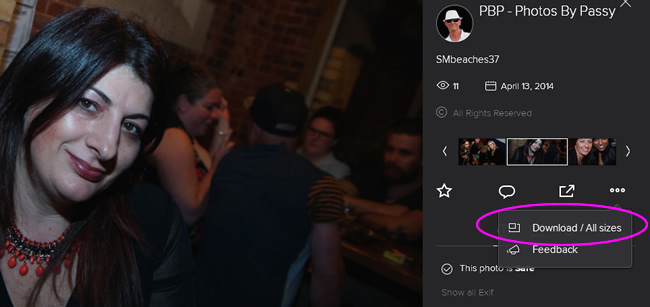 Click or tap on the "Download / All Sizes" option.
There will now be a pop up box, where you can click to select the required size, and then click the "Download" button.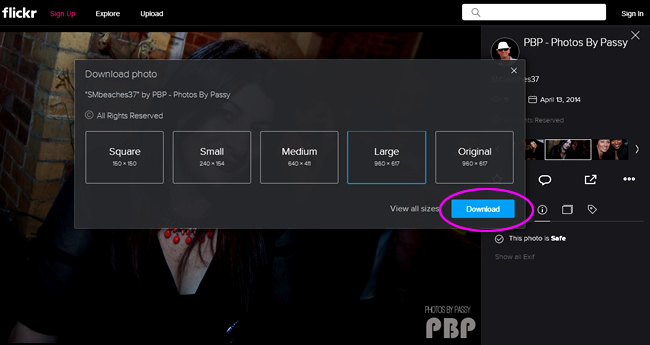 The file should then go to the "Downloads" folder on your PC or device.
Saving a Flickr Photo to an iPad
The following steps should make this happen.
1. Go to the all sizes page for a given photo, accessible from the "…" menu.
2. Choose a size.
3. Tap on the "Download the XXX size of this photo" link.
4. Tap and hold on the image, and then tap "Save image". The image will be saved to your camera roll.
Subscribe
If you enjoy visiting Photos By Passy, why not get a free subscription to the website.
You can then receive notifications of new items and updates directly to your email address.
Go to the subscribe area on the left hand sidebar, (or down the bottom of the page if using a mobile phone), fill in your email address and then click the "Subscribe" button.
Enjoy,
Passy